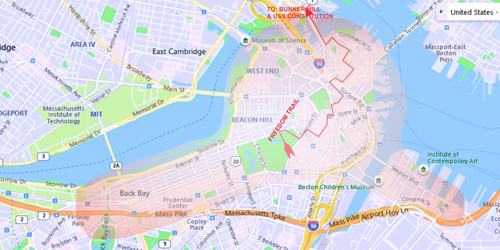 It's a Small, Walkable Town
Boston is compact and getting around without a car is pretty easy. Almost all of the major attractions in Boston would fit inside the same area as New York's Central Park. As long as you stay in or near the city center, the highlighted areas on the map, you'll be close to the places you'll likely want to visit.
The Neighborhoods
The map shows the areas where you may want to look first for a hotel. The rectangle at the left is the Back Bay neighborhood. Here, you're closer to Fenway Park, Copley Square, the Museum of Fine Arts and the Isabella Stewart Gardner Museum. The circular area includes Beacon Hill, the North End (occasionally and incorrectly referred to as "Little Italy") and the Freedom Trail, which includes most of the historical sites of the city. Finally, you'll see the Seaport District on the right edge of the map. It's a nice area, built around the Boston Convention and Expo Center. There are two things to know about this neighborhood. First, it is very new – there is no "Old Boston" feel here. And, two, the subway does not go to the Seaport, so getting in and out of this neighborhood takes a little time. See more about the "T", the Silver Line and Commuter Rail here. There are plenty of fun restaurants and very nice hotels. But unless you are attending a conference at the "BCEC", you should look in the first two neighborhoods.
To Drive or Not to Drive: That is the Question!
You will not need or want to have a car if you are staying anywhere on this map. Parking your car at your hotel is very expensive, and unless you're leaving the city for a day trip, it will be expensive to park wherever you drive. If at all possible, leave your car at home. Parking in a hotel's lot is about $40 to $50 per night and it may not include "in-and-out privileges.
These areas are also the most expensive neighborhoods, and Boston hotel prices are already pretty darned high. If you cannot find anything in your budget and wish to look elsewhere, here are some pointers.