Huzzah! Welcome to Boston's Top Tours!
Walk & Talk Boston tours are designed to be unique, fun and informative. You will always be led by a highly experienced guide who can not only deliver the "script", but expand and explore new subjects when you want to ask questions that are not part of the tour. We've created four itineraries that focus on the most popular walks around town:

The Entire Freedom Trail, (our most popular, 5-Star rated tour!)
Beacon Hill and Back Bay, a walk through time in spectacular neighborhoods,
a one-hour tour for people pressed for time, and
a tour for people with lots of curiosity, but not so much mobility.

What we are not: We are not crowded! (We set a maximum of 14 on our largest tours) We are not costumed, or tell bad jokes. We are: focused on making every tour your "best ever" and a highlight of your time in Boston. And by the way — we were brand new in 2022! COVID delayed our launch for a couple years, but we are ready to hit the streets with you. We had a fantastic first season and are currently enjoying taking new visitors through the streets of Boston this summer!
Check out the About page for more. And then check out our tours! We can't wait to take you around our town!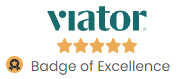 Big News! (Well, big for us!) Our little company, launched in early summer 2022, earned the Viator/TripAdvisor Badge of Excellence. As Sally Fields once said "You like us! You really like us!" — or something like that. So, yes we're new, but no one has better reviews! Just look! 
Welcome! You've found Boston's best Freedom Trail tour!
Did you know this is the only tour that actually visits all stops on the Freedom Trail?
Boston Blog — What's On Our Mind!
If you happen to take our "Complete Freedom Trail" tour, we end at the most famous warship in the world, the USS Constitution. She's over 220 years old and remains a commissioned ship in the US Navy. One of the fun things about leading people on tour is that I'll get...